FREE BANJO LESSONS - by Bradley Laird
LESSON 18

A Few New Licks (MP3 TRACK 28)
Try these new licks. You will find these licks popping up in songs over and over as you learn new tunes. Practice each measure alone then learn to play the entire exercise.


A New Song (MP3 TRACK 29)
Here is a version of the song Boil 'Em Cabbage Down. In places it uses licks you've already learned and in other places it uses rolls played while holding down parts of chords.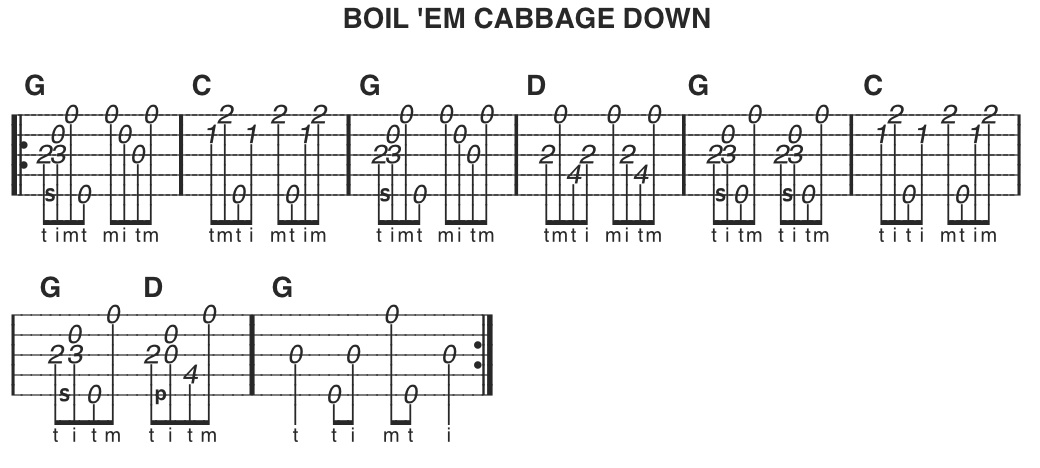 First, practice this along with the track and then gradually work on speeding the song up. Be sure you are playing cleanly and precisely as you increase the speed. It's better to play well slowly than to play fast poorly, don't you agree? The speed will come in time if you stay relaxed and keep picking cleanly and in good timing.
---
If learning to play using tablature is giving you fits try my Play Banjo By Ear video course:
| | |
| --- | --- |
| | These 5 video lessons (over 2 hours total) might be just the thing to make it all "click" for you. I have discovered that not everyone's brains operate the same way. For some people, especially in the early stages of learning, printed tab and chord charts just looks like "chicken scratchin'" and TAB just gets in the way of learning. These videos are a "monkey see, monkey do" method and you should try it and see if it works for you. |
---
All of my banjo books are downloadable eBooks. Get 'em today!

Free DHTML scripts provided by
Dynamic Drive

Worried? Move on to the Worried Man Blues in the next lesson...