Bluegrass Bass Complete Learning System - by Bradley Laird
What is this system?
The heart of this system is a downloadable 93 page PDF eBook which is a complete beginning course of lessons for beginning bluegrass upright bass. But there is a lot more!
Read on and I will explain everything you get with the Complete Learning System. This page is pretty long because I want to show you everything you'll get. (Ordering and download info is at the bottom of the page.)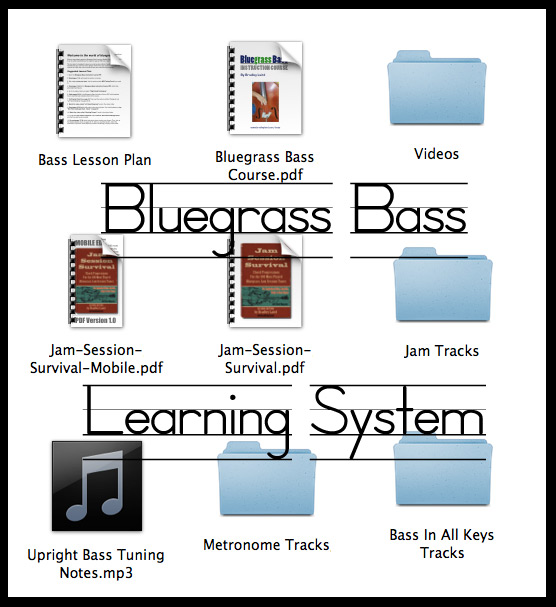 What you'll see on your computer after downloading.
---
Here is a little podcast I recorded explaining the System. You might want to listen to it as you read about it.
---
Here is a list of everything you get when you download the Complete Bluegrass Bass Learning System:
Bluegrass Bass Instruction Course - This 93 page PDF is the cornerstone of the system. It covers everything from how to set the end pin, right and left hand techniques, reading bass tab, damping, playing patterms over every possible chord, and a lot more. There is a lot in this course which teaches 27 versions of 15 bluegrass songs. This eBook is the heart of the system so please read more about it here and download a free preview.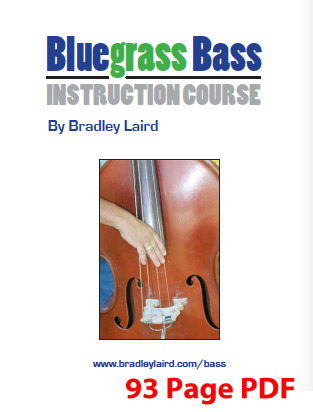 Instructional Video Lessons - The Complete Learning System also includes 4 video lessons showing you how to do the important basic techniques required for good playing and a great sound. You will get the following videos in the download:
Left Hand Damping (7 min.)
Right Hand Damping (6 min.)
Right Hand Techniques (10 min.)
Backing Fingers (7 min.)
Tuning MP3 Track - This helpful track is included so you can be sure to get your bass in perfect tune.
Jam Track Collection - The Complete System includes 55 bluegrass practice jam tracks. All of the songs are presented at multiple speeds. Click the title to read the entire list of song tracks.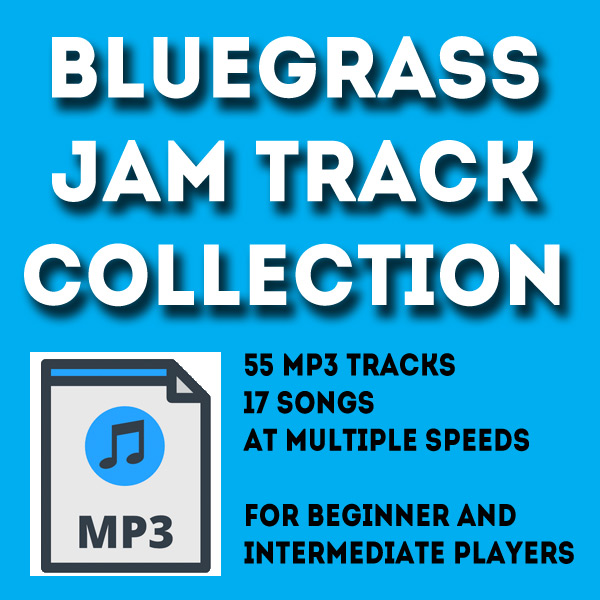 Jam Session Survival eBooks - You will get both the full-sized (for printing) and the mobile edition of this handy jam session "cheat sheet" PDF book. They contain the chord progressions to the 100 most popular bluegrass jam session tunes.
All of the tunes are written in the most common keys you'll be asked to play them in--and most are shown in multiple keys! This can be a lifesaver at a jam session.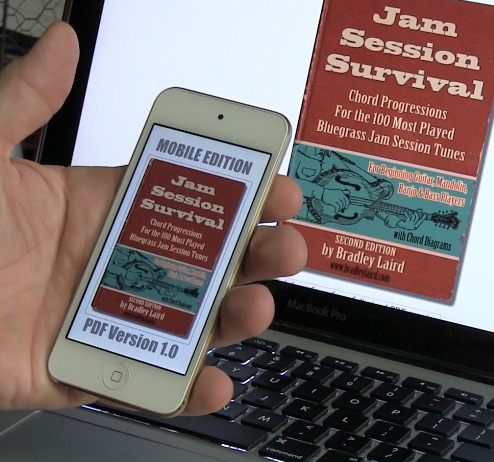 Metronome Track Collection - Your download will also include this set of 24 precision metronome MP3 tracks at speeds from 40 to 160 beats per minute so that you can practice any song and develop excellent timing. Practice tips are also included.
The next component of the Complete Learning System may be the most valuable part of the entire course. This is included as a BONUS just for people who choose the Complete Learning System. You will also get...
Play Bass In All 12 Keys Track Collection and Guide Book - This set of 13 practice MP3 tracks will teach you to play in EVERY major key. You will master a three chord, 12 bar blues song in all 12 major keys! And to help you learn to do it you also get the...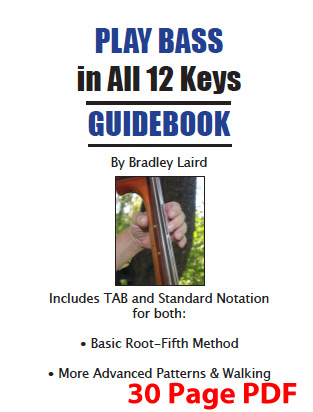 Play In All 12 Keys Guide Book - This 30 page PDF eBook will guide you through learning to play in all 12 keys by presenting a basic version for each key and then a more advanced bass line arrangement using walkups and more advanced positions.
Note: The Play in All 12 Keys tracks and guide book are only available as a part of the Complete Learning System.
And, finally, you also get...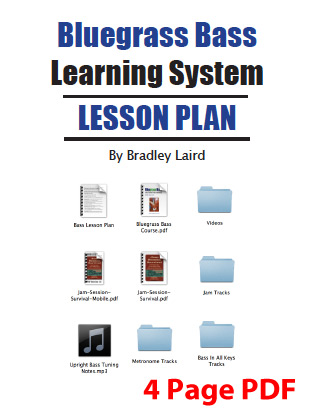 My 4 page Lesson Plan PDF which I created to guide you through using the entire system. There are lots of materials and resources in this system and this simple, easy-to-follow lesson plan will walk you through the best way to learn.
---
Note: ALL of my bass materials are written in easy-to-read tablature (fully explained) and standard music notation for those who already know how to read that system. My focus is on upright bass but the material can be played on electric bass too.
---
Choose just the materials you want or SAVE A LOT OF MONEY by getting the Complete Learning System.
Clicking any of the "buy now buttons" will take you to my store page where you can complete the transaction and then download.
Complete Bluegrass Bass Learning System - All 5 PDF eBooks (296 pages), 93 MP3 audio tracks, 4 video lessons. Sells for $55.
Bluegrass Bass Instruction Course PDF - 93 page PDF instruction course. Sells for $20.
Bluegrass Bass Lesson Plan PDF - Value $10. Can be printed and used as a progress checklist.
Included only in the Complete System
Four Bass Technique Video Lessons - 30 minutes total. Value $20
Included only in the Complete System
Jam Session Survival - Mobile Edition PDF - The 100 most popular chord progressions in a mobile version. Sells for $5
Jam Session Survival - Classic Edition PDF - The 100 most popular chord progressions in larger printable PDF format. Sells for $5
55 MP3 Bluegrass Jam Tracks Collection - Includes a PDF of the chord progressions. Sells for $15
Bass Tuning Notes MP3 Track -
Included in the Complete System
24 MP3 Metronome Track Collection - 40-160 BPM, 3 minutes each. Sells for $5
Play Bass in All 12 Keys Track Collection and 30 page PDF Guide Book - Value $20
Included only in the Complete System

Save BIG when you order the Complete System!

Complete Bluegrass Bass Learning System - The value of the entire system is $100. You can purchase the entire system for just $55. You save $45 and get all the tools you need.
IMPORTANT DOWNLOAD AND PURCHASE INFO: This digital download is very large. It is approximately 500 MB of videos, audio tracks and PDF ebooks. Be sure to allow sufficient time for the download to take place.
Also, be sure to use your laptop or desktop computer and be sure you have sufficient free disk space available. It is simply not practical, and certainly not easy, to try this with a smart phone or a tablet type device. The purchase can easily be made on any device but the download should be done on a "real" computer. After completing payment you will be sent a receipt email from payhip.com with a download link.
The video files are QuickTime and can be played by most computer video players but they work best on the free version of QuickTime player which is available for Windows or Mac. The audio tracks are standard MP3 format and the eBooks are PDF files.
The files are all supplied as a single .zip file to ensure download accuracy and to make the download faster. You will need to "unzip" the file (decompress) which most typical Macs or Windows computers do automatically simply by double clicking on the .zip file. Once you have downloaded the files and unzipped them you can optionally transfer any of the items to your mobile device as needed.
If you have any doubts about how to do the download process you could always go here and download a single file first to try out the process for free. This happens to be a mandolin lesson but you can see how the download process works and try the unzipping process, test view the PDFs and videos, before you try downloading the Complete Bass Learning System.
Payment is accepted using Credit, Debit or PayPal. All transactions are run through PayPal's system but you don't need a PayPal account to purchase. Simply choose the bank card option in the PayPal window.
The files are delivered via Payhip.com. If you have any trouble with the technical process please contact them at contact@payhip.com.
If you have any questions about the content and learning material please contact me.
---