Bradley Laird played mandolin with the Georgia bluegrass group, Pony Express, for over 30 years! Brad first assembled this group together in college (ABAC) in 1979. He also played mandolin with the Atlanta-based bluegrass group Cedar Hill for 26 years beginning in 1983. Other bands which Brad has performed with are The Incorrigible String Band (bass), The Bluegrass All-Stars (mandolin), The Slackey Family Band (mandolin & electric mandolin), Whoa Nelly (mandolin), Super String Theory (banjo), The Rex Mill Ramblers (banjo, pedal steel, guitar), The Curtis Jones Band (bass), and The Mosier Brothers Band (bass). He presently plays upright bass with The Pluck Tones.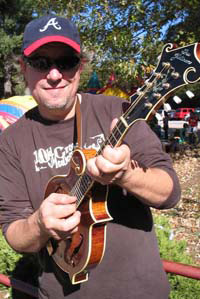 During his college years he hosted a weekly bluegrass radio program on WABR called "Bluegrass, Etc." He has recorded several albums, has been a mandolin, banjo, upright bass and guitar teacher since 1982 and is an alumnus of the Atlanta Mandolin Society Orchestra in which he played mandola and mandocello. Brad has built several mandolins and a wall full of old-time fretless banjos over the years.
Brad has written 11 bluegrass instruction books including the popular Mandolin Master Class, The Mandolin Handbook and The Flint Hill Scrolls. He is a songwriter and has composed over 50 bluegrass songs and instrumentals. Brad has written and "starred" in over 70 instructional videos and DVDs.
One of his latest creations is the free bluegrass podcast GrassTalkRadio.
Brad created free websites which have taught zillions of people how to play mandolin, bluegrass banjo, clawhammer banjo, bluegrass guitar and dulcimer.
Brad was inducted into the Hall of Honor of the Atlanta Country Music Hall of Fame in 2004. He is a charter member of The Ancient Order of the Mandolin and served as their first M.E.M.
Reknowned for his warped cornball humor, cowboy poetry and railroad conductor-like devotion to clockwork entertainment, Brad is also available to MC your bluegrass festival! He excels at announcing cars with their lights left on, finding lost parents, and plugging the vendors and CD tables. You can't believe everything you read in the paper, but this true. Festival organizers can contact Brad directly.
In an effort to simplify his life, Brad and his family made the decision to relocate to a small farm in South Georgia. In addition to his performing and teaching, is a video editor, author, piano tuner and technician, homebrewer, flintknapper, pecan picker, gardener, donkey herdsman and tends a flock of laying hens.