FREE DULCIMER LESSONS - by Bradley Laird
HOW THE DULCIMER IS HELD
The fret board extends the entire length of the sound board so there is no "neck" to hold while playing. Therefore, it is easiest to play by placing in on the lap while seated. If a table of suitable height is available it can also be played on a table.

Most people will be more comfortable if the instrument is positioned on the lap of the player with the peg box to the left side and the tail block near the right hip. It is easier to play up and down the fret board if the left side (the peg box end) is angled away from the body near the knee and the tail block kept nearer the waist.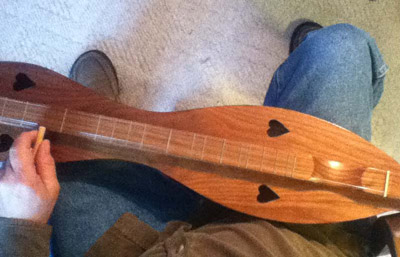 The dulcimer rests on the lap of the player.
THE LAYOUT OF THE FRETS
The dulcimer is unique among "modern" fretted instruments since the frets are arranged to only produce notes of a particular scale rather than all of the notes of the chromatic scale. A chromatic scale can be correctly thought of as "all of the possible musical notes". On a piano, if you played every key (black and white) in order you would be producing the chromatic scale.

If you don't know what I mean by that compare the fret board of a guitar with the fret board of the dulcimer. It would appear that some frets are missing on the dulcimer. The guitar has enough frets to produce every possible note of the chromatic scale while the dulcimer can only produce the notes of a pre-ordained scale. This makes the dulcimer easier to play but also makes it impossible to play some melodies.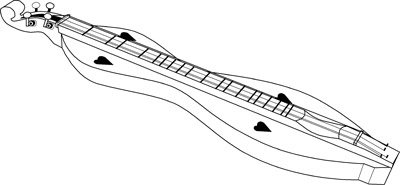 The position of the frets of the dulcimer.

You find the same situation if you have ever played a harmonica. A typical harmonica only produces notes of "a scale", not all notes of the chromatic scale. If you compare the dulcimer to a piano you would find that a piano (counting all the white and black keys) is capable of producing every note of a chromatic scale. If you were to remove all of the black keys you would be left with something arranged like the dulcimer. Many ancient instruments, such as the harp or the flute, are also arranged this way.
---
After you try these free lessons you might also enjoy my complete downloadable PDF eBook which teaches 10 songs in 3 different tunings using strums and a little finger picking too. It comes with 17 MP3 tracks too! Fun stuff! You can read about it here.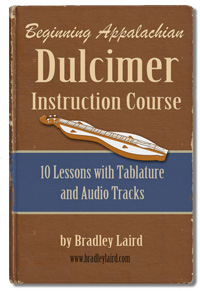 ---
Back to Index of Free Dulcimer Lessons