FREE DULCIMER LESSONS - by Bradley Laird
DAA TUNING
The tuning we will use in these free lessons is commonly called DAA or Ionian tuning. (More tunings are taught in the Ebook.) The first letter refers to the bass string, the middle letter is the note of the middle string and the final letter is the note of the melody string. Unfretted strings are called "open strings".
To tune your dulcimer to DAA tuning you will first tune your melody string(s) to an A note. This note is the first A below middle C on a piano. Adjust the tuning machines to tighten or loosen the string until it sounds the same as this note.
After you have both melody strings tuned to an A note you should tune the middle string to this same note. Then, adjust the bass string tension until it matches the D note below the A.
To check your tuning when you are finished, press the bass string down just behind the 4th fret. (The frets are counted from left to right when the instrument is in your lap with the peg box to the left.) The note produced by the bass string should match all of the other strings when they are played open.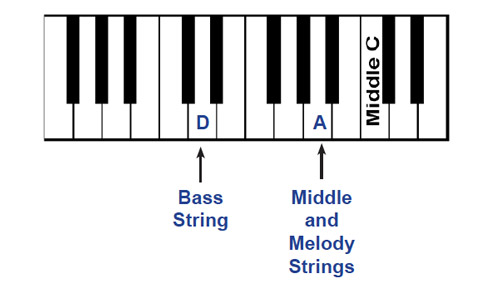 The DAA tuning notes found on the piano keyboard.
DAA TUNING TRACK
Here is an audio MP3 track to help you get tuned up in DAA tuning. This track is one of the 17 audio tracks which comes with the downloadable Ebook.
---
After you try these free lessons you might also enjoy my complete downloadable PDF eBook which teaches 10 songs in 3 different tunings using strums and a little finger picking too. It comes with 17 MP3 tracks too! Fun stuff! You can read about it here.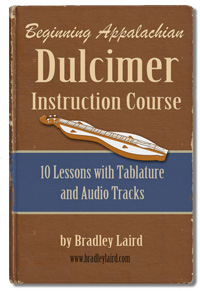 ---
Back to Index of Free Dulcimer Lessons