FREE BANJO LESSONS Bradley Laird's Free Bluegrass Banjo Lesson site is here!
---
---
---
FREE GUITAR LESSONS Bradley Laird's Free Bluegrass Guitar Lesson site is here!
---
---
©2015 Bradley Laird
---
FREE CHORD PROGRESSIONS - by Bradley Laird
Foggy Mountain Breakdown

This is THE banjo tune. On September 13, 2006, I got together with 285 other banjo players to pick this thing for the Master himself, Earl Scruggs.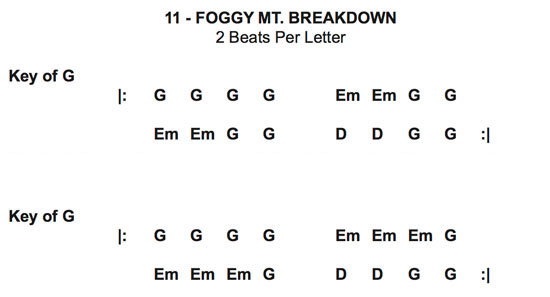 *Earl really hit on something with this one. It's also sometimes known as the Theme From Bonnie & Clyde since it was used in the chase scenes in that movie. This song, oddly, bears a striking resemblance to a Bill Monroe tune called Bluegrass Breakdown. Hmm... just change that F chord to an Em... Just for the historical record: Earl was a member of Bill's band and left to form Flatt & Scruggs, then this tune came out.
Study both tunes and you will see how much borrowing goes on in the musical realm. Let's face it. Nobody can really create anything musical which does't in some way build upon the music of someone else.
---
Download the PDF File: All 100 of the chord progressions from this site are available as a PDF file for printing on 8.5" x 11" pages. The download file includes 90 additional jam session favorites not shown on the website. Get information by clicking here.
---
Back to Index of Chord Progressions
Follow Me