FREE BANJO LESSONS Bradley Laird's Free Bluegrass Banjo Lesson site is here!
---
---
---
FREE GUITAR LESSONS Bradley Laird's Free Bluegrass Guitar Lesson site is here!
---
---
©2015 Bradley Laird
---
FREE CHORD PROGRESSIONS - by Bradley Laird
Man of Constant Sorrow
This is a very old song most recently made famous in the movie Oh Brother, Where Art Thou? Prior to the movie, the Stanley Brother's version was well known in bluegrass circles.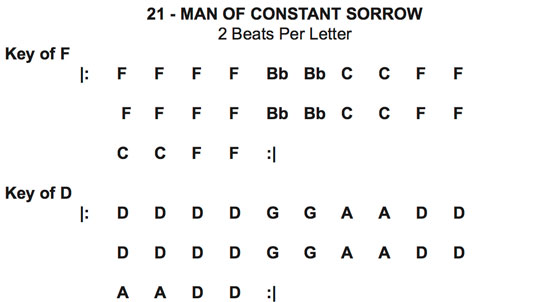 *It seems like a lot of people are doing this song in the key of F because that's where the movie version was done. I have printed the key of D chords because most guitar players find it a lot easier play it in "D positions" with a capo at the at the 3rd fret to produce the key of F sound. See my pages on how to use a capo and how to transpose for more information.
---
Download the PDF File: All 100 of the chord progressions from this site are available as a PDF file for printing on 8.5" x 11" pages. The download file includes 90 additional jam session favorites not shown on the website. Get information by clicking here.
---
Additional Learning Resources:
The Mandolin Song Book by Bradley Laird includes Man of Constant Sorrow in the Key of F and 31 other mandolin breaks and solos.
The Bluegrass Fakebook by Bert Casey has the Chords, Lyrics and Melody to Man of Constant Sorrow, along with 149 more bluegrass songs.
Geoff Hohwald's Video Banjo Lesson for Man of Constant Sorrow
---
Back to Index of Chord Progressions
Follow Me