FREE DULCIMER LESSONS - by Bradley Laird
INTRODUCTION
This illustration identifies the various parts of a Mountain (or Appalachian) Dulcimer. The hourglass shape is the most common but other shapes exist.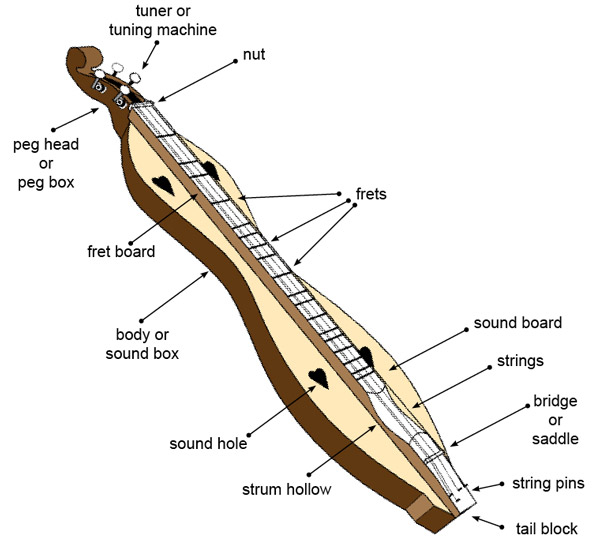 The dulcimer can be strung with three strings or four. If strung with four strings, the "melody" string will actually be a pair of strings, played as if they were one, to add extra volume. The "middle string" and the "bass string" are usually strummed to provide a drone harmony to the melody string.
ORIGINS
The Appalachian Dulcimer (or Mountain Dulcimer) certainly qualifies as one of the few original American musical instruments. It made its appearance in the mid to late nineteenth century among the Scotch-Irish settlers in the Appalachian mountains. Though several possible candidates have been identified which might have served as European predecessors, it appears likely that the instrument, in its present form, is purely American.
The elongated hourglass shape is the most common design but others exist and there is, unlike most other musical instruments, no specific standard regarding size. If you'd like to see and hear a dulcimer being played in a modern context scope out the YouTube video at the bottom of this page and then come back.
---
After you try these free lessons you might also enjoy my complete downloadable PDF eBook which teaches 10 songs in 3 different tunings using strums and a little finger picking too. It comes with 17 MP3 tracks too! Fun stuff! You can read about it here.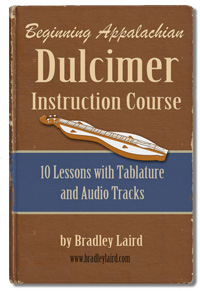 ---
Back to Index of Free Dulcimer Lessons