---
LINKS TO MY OTHER FREE LESSON SITES:
• Mandolin
---
©2015 Bradley Laird
---
FREE GUITAR LESSONS - by Bradley Laird
LESSON 1
Introduction to Playing Guitar
Many guitar websites today are trying to be all things to all people and that's cool. But I am not trying to do that here. There are, no doubt, many similarities between playing folk, rock, country, gospel, jazz and bluegrass guitar, but this site will focus on bluegrass music. If you are new to the guitar, learning good basic technique by playing bluegrass music is an excellent foundation for any style of music if you choose to play them in the future. If you have been playing other guitar styles for years I will explain the techniques which I think defines good bluegrass guitar playing. Here and there throughout these lessons I will suggest that you go watch a free video. Well-made videos can do a great job of illustrating the things I am attempting to explain here with words, tablature and chord charts. But, I also think that sometimes the written word can explain things better than just watching a bunch of videos. So, I suggest that you do both things. Now, let's get down to business and talk about bluegrass guitar...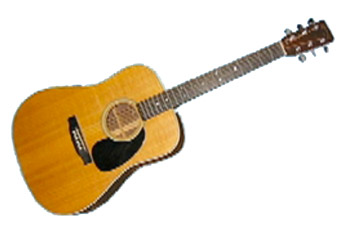 Typical D model Martin style guitar

The Bluegrass Guitar Sound
Bluegrass guitar can only be truly played on a steel-stringed, flat top, acoustic guitar. This is part of the "sound" of bluegrass. If you think this is close-minded, consider heavy metal rock and roll played on a nylon string acoustic. It could be done but it won't sound like heavy metal! Or imagine Segovia playing a Bach concerto on a flippin' telecaster through an array of stomp boxes! The Martin dreadnaught sized acoustic guitar is the standard instrument of choice by bluegrass players. In particular the D model Martins. Hundreds of other makers have imitated this style of guitar construction and many of them are perfectly suited to getting the right type of sound for bluegrass. (Taylor, Huss & Dalton, Gibson, Santa Cruz, you name 'em...) This doesn't mean that you cannot learn to play bluegrass using some other type of guitar. You can. But, to achieve the sound that is associated with bluegrass, a large body, acoustic steel-string guitar is virtually a requirement. We will discuss more aspects of the bluegrass guitar style shortly, but first let's make sure you know how to tune your guitar...


Ready to learn to tune your guitar? Click here to move on to Lesson 2.
Brad Laird's Blue Grass Guitar 101 eBook

Learn bluegrass style rhythm guitar and "bass runs" by playing these 10 tunes. (Tab, standard notation and chord charts provided.) Also the lyrics and lead sheets.

Includes a course in singing 2 or 3 part bluegrass harmony. Click here for more information on the downloadable PDF eBook.