FREE GUITAR LESSONS - by Bradley Laird
LESSON 7 - MORE ESSENTIAL CHORDS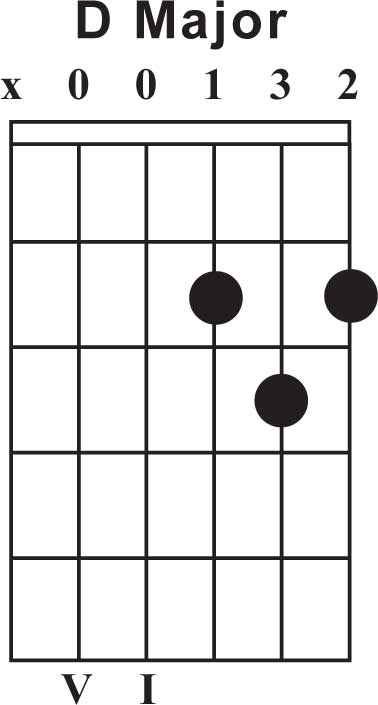 You will use the D major often but notice that you do not hit the 6th string at all when playing this chord.
---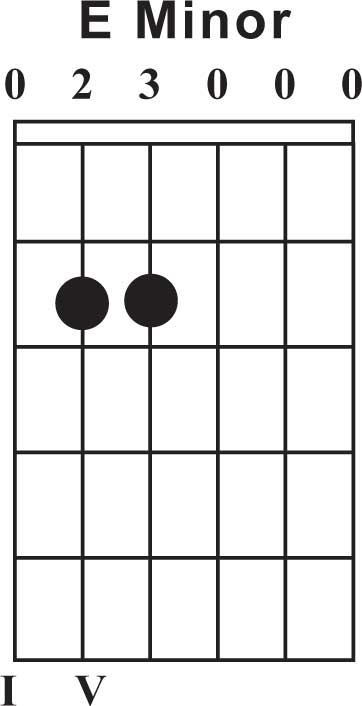 The Em chord pops up a lot when playing bluegrass tunes in the key of G. (In songs like Foggy Mountain Breakdown and Rocky Top) The chart says to use fingers 2 and 3 but it is perfectly OK to use fingers 1 and 2 if that is more convenient depending on the chord you just played.
---
Here is an F major chord.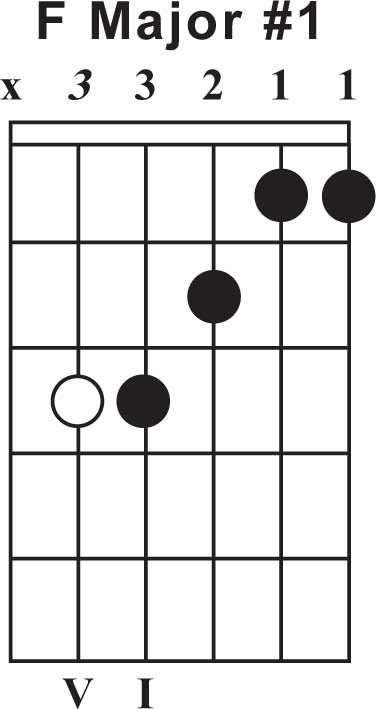 You can see that you have to lay your index finger down flattened in order to play the 1st and 2nd strings with that one finger. Also, you can see that the "V" bass note requires that you move your 3rd finger back and forth to play the alternating bass pattern.
For you rock and roll types you have probably noticed that we have not really used any "barre" type chords. In fact, to get the "bluegrass sound" we rarely use them. It is common to use a capo and play as many "open chords" as possible to maintain the stylistic sound. But, barre chords are sometimes used in a pinch when an "odd chord" happens in a song. An example of this type of chord is this alternate F chord: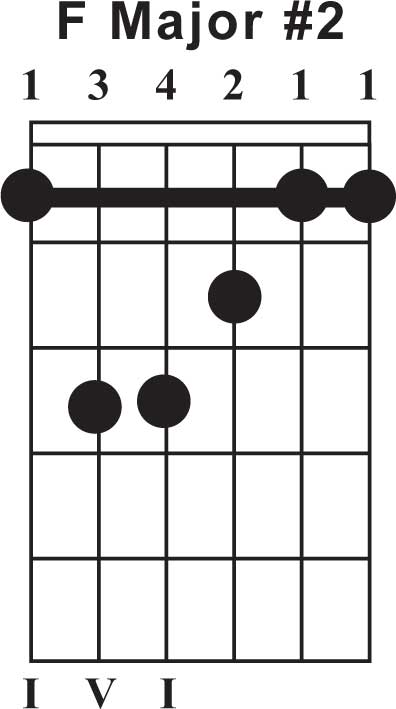 In F #2 you can see that the index finger is called upon to play notes on the 1st, 2nd and 6th strings so it means you must extend your finger across the entire fingerboard. However, don't worry about trying to press all 6 strings down! Strings 3, 4 and 5 are played by other fingers so you can relax a bit in the middle using a slight arch of the index finger.
Here is a chart showing all of the chord forms you will normally encounter in playing bluegrass music. I have been playing 30 years and I can tell you for a fact that I can count on one hand the times I have needed to play a chord not found on this chart. Here it is...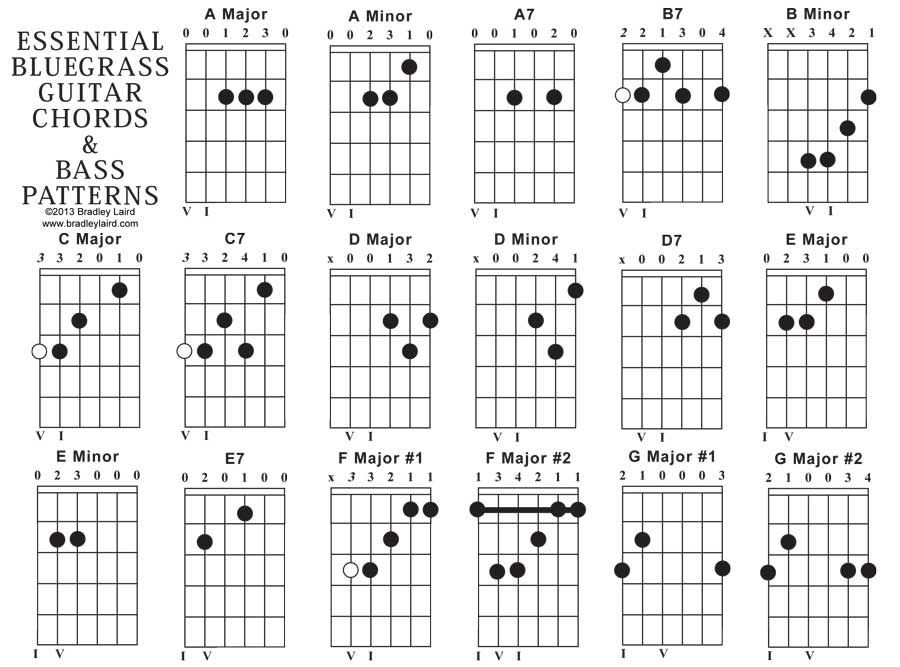 Try playing these chords and you might want to print the chart for future reference. Here is a link to a printable PDF version of this chart of essential bluegrass chords and bass patterns.
Now that you have some chords, here are free cheat sheets with the chord progressions to the top 10 bluegrass jam session tunes.
Or download my book Jam Session Survival with the "cheat sheets" for the top 100 most played bluegrass jam session tunes. Get that and you are off and running big time!
Brad Laird's Bluegrass Jam Session Survival eBook

The chords progressions for the 100 most popular bluegrass jam session tunes. Stop missing chord changes, sound better and have more fun. If you don't need it you probably know someone who does!

Includes chord charts for banjo, mandolin and guitar and bass patterns for all major and minor chords. Click here for more information on the downloadable PDF eBook.
Brad Laird's Blue Grass Guitar 101 eBook

Learn bluegrass style rhythm guitar and "bass runs" by playing these 10 tunes. (Tab, standard notation and chord charts provided.) Also the lyrics and lead sheets.

Includes a course in singing 2 or 3 part bluegrass harmony. Click here for more information on the downloadable PDF eBook.